Custom Test Jigs & Interfaces
Test & Control Software
Test Consoles & Enclosures
'Bed of Nails' Fixturing
Test Jig Design & Manufacture
True Affordability - meeting your requirements
LPD has, since 1982, offered a specialised service to electrical test engineering. During this time we have established a range of custom products which can be afforded by most budgets.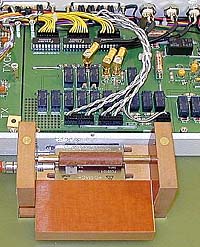 Custom Test Facility
Manual and Automatic Functional Testing
Static & Dynamic Device Burn-in Systems
Power Supplies
Burn-in Endurance Systems
Test Socket Customisation
We specialise in the design and manufacture of functional test facilities and burn-in endurance fixtures for the complete testing of electronic assemblies.
In addition, we offer industrial software for micro-controllers embedded within custom test or burn-in fixtures.
Industrial Software Services
Microcontroller Based Systems
IEEE-488 Systems
Instrumentation Control
System Integration